Solvay Advanced Polymers in Alpharetta Georgia is serious about Safety. The employees of this company, a subsidiary of Solvay America, a Fortune 100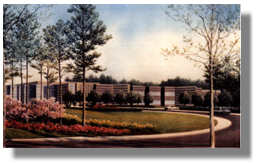 company, work tirelessly to improve Employee Safety, and as a result continuously excel above industry Safety standards. A partnership between Fire Control and Solvay seems only natural. Fire Control designed and installed an analog addressable fire alarm in this 300,000 square foot research and development facility. The system combines automatic detection with PC Based Color Graphics annunciation, and Emergin's WirelessOffice Client/Server messaging software for instant alpha paging to all support and Fire Brigade personnel for all emergency conditions. In addition, Fire Control successfully integrated to over fifty distinct industrial process signals for instant notification in the event of process failures, improving facilities response and reducing downtime.


This Smoke Control Panel in a State Office Building is part of a comprehensive smoke evacuation system that was designed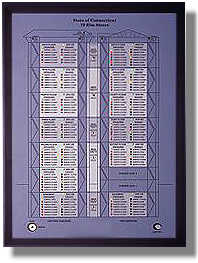 by the talent at Fire Control and begins with the main Fire Alarm control panel. In the event of a fire, software causes the respective fans and dampers in this seven story twin tower facility to position and respond to evacuate personnel and smoke on the floor where the fire alarm is located. At the same time, the system pressurizes two floors above and the floor below. In addition, the software commands the system hardware to pressurize the fire evacuation stairwells to permit safe egress in the event of an alarm. Should the fire progress beyond one floor, the software will continue to add floors to the sequence in order to maintain the correct areas of evacuation and pressurization. Fire fighters can view at a glance the relative position of dampers, and the status of pressurization fans, as well as override any sequence by way of manual toggle switches.

The security console in this Historic Building was designed by Peter Monahan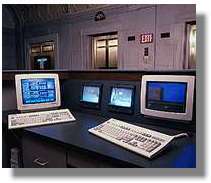 of Fire Control, with an emphasis on simplicity. Within view, and easy reach of the security personnel are a color graphics annunciator for Fire Alarm reporting, and a PC based Card Access System. The card access system also restricts the Elevators (seen in the rear of photo) as necessary. Closed Circuit television cameras monitor the various areas of the facility, and are easily controlled by Security Officers. Not visible is a gate entry and intercom system that reports from the parking garage gates to pre-programmed telephone extensions.


This Smoke Control Panel in City Hall gives firefighters instant feedback as to the status of dampers, pressurization fans,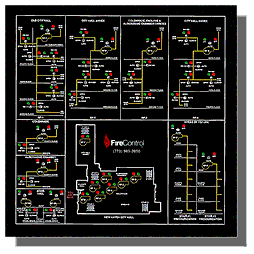 and evacuation fans. Because the building is architecturally complex, the staff at Fire Control designed and installed this product with firefighters in mind...some who may have never seen the facility before....The objective was to convey the necessary fire alarm information accurately and graphically to eliminate a learning curve during an emergency. In addition, the controlling software monitors the position of all dampers and devices in the system to be certain that at least one damper is opened before a pressurization or exhaust fan can start. These software interlocks eliminate the risk of improper operation by an unfamiliar user which could cause damage to the smoke control equipment.